WHY JOIN BISMA?
We provide opportunity to the young innovative minds to be entrepreneurs for whom our Entrepreneurship Cell creates adequate environment and facility. A global perspective is provided to the students through international Conferences, seminars, Indo- Japan Student exchange programs and international placements for which our institution has signed MOUs with several renowned universities of Japan.
Approvals and Affiliations: The Biyani Institute of Science & Management under the aegis of Biyani group of colleges got off to a good start during 2007 after having received recognition from the following authorities:
Government of Rajasthan
All India Council of Technical Education.
Rajasthan Technical University, Kota.
Best B-School in Rajasthan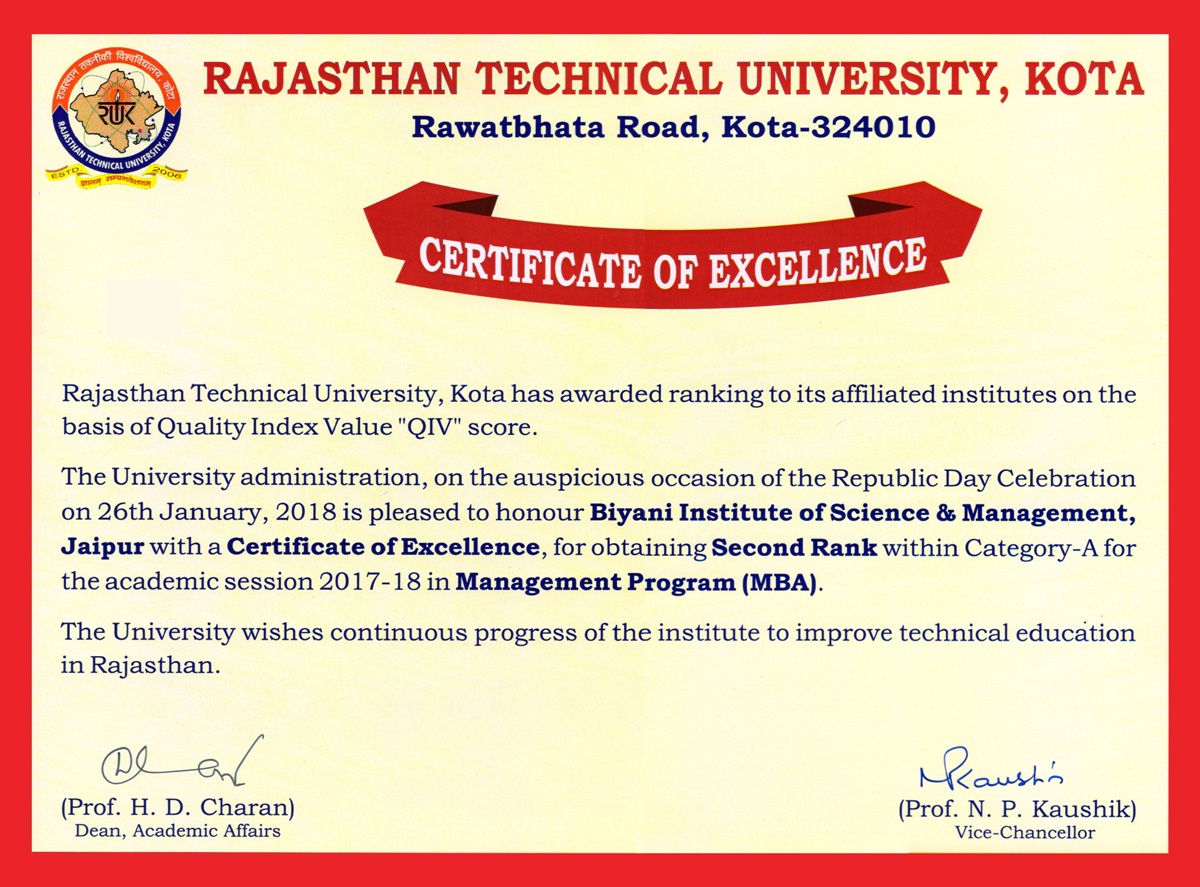 Commendation from Minister of External Affairs, Japan
For FY 2017 Japan Ministry of external affairs recognized our efforts in building the friendly relations between India and Japan and awarded the Foreign Minister's Commendation.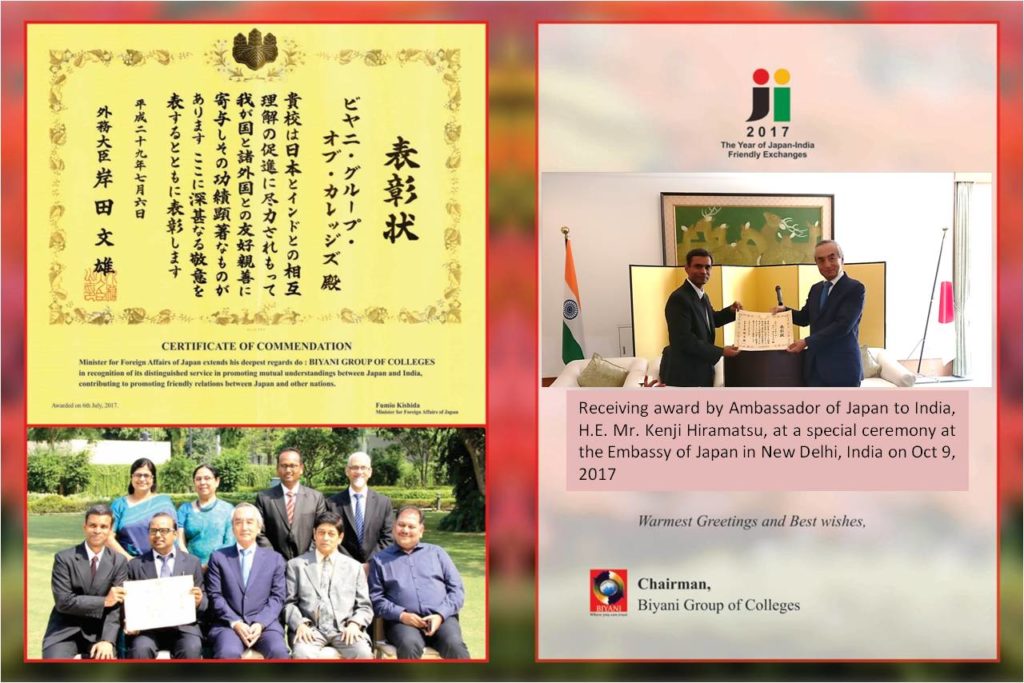 Approved Organization for sending students to Japan for Technical Internship Programme (TITP) :
A way forward to Prime Minister's bilateral visit to Japan, seeking to deepen ties with the world's third largest economy, Biyani Group of Colleges have been approved by National Skill Development Council as sending organisation. BISMA will send the first batch of Interns in September 2018, for a Technical Internship Training Programme in Japan to replicate Japan-like efficiency in our country. Japan will bear the financial cost of the skill training of Indian technical interns. This marks the beginning of synergy between Japan's advanced technology and India's rich human resources. Under the Program, interns will be earning almost INR 60000 to INR 65000 per month, post statutory deductions.
Hon. Minister for MDSE, Govt. of India Shri. Dharmendra Pradhan felicitates 22 organisations and TITP interns. Also present at the event were Dr K P Krishnan, Secretary, MSDE; Asheesh Sharma, Joint Secretary, MSDE and Jayant Krishna, ED & COO, National Skill Development Corporation (NSDC)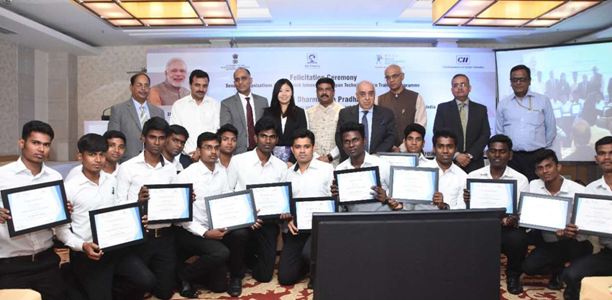 Event date and venue: 28th March, 2018  India Habitat Centre, New Delhi
More Details on : http://www.dnaindia.com/india/report-dharmendra-pradhan-felicitates-22-organisations-and-titp-interns-2598880
Entrepreneurship Development Cell
The major objectives of the E-Cell are to encourage students for "out of the box" thinking and in the longer run establish themselves in the corporate arena as successful entrepreneurs. MoU has been signed with Startup Oasis to incubate the Start ups of the young entrepreneurs.
The Entrepreneurial Development Cell has been setup with the sponsorship from Department of IT, Govt. of Rajasthan.
Biyani International Conference:
BISMA has been organizing International conference since its inception, with an objective of encouraging the spirit of Research and Innovation and to facilitate seed and promote India-Japan bilateral scientific and cultural relationships. This conference provides an opportunity to Academician, Scientists, Researchers and Industrialists to exchange their ideas and experiences. This event serves as a medium for the young intellects of the nation to have face to face interaction with eminent scientists and speakers with a special feature of grasping future career opportunities for the distinctive institutions Japan.
Website : www.biyaniconference.com
Seminars: Weekly seminars are held in the Institute where eminent leaders from different fields in the Corporate / Social World interact with the students making it a thoroughly enriching experience for them.
GD Sessions: Fortnightly group discussion sessions are carried out. This allows the students to identify their problem areas and then consequently improve. It also allows the student to keep in pace with the latest knowledge and contemporary world.
Capacity Building Lab: The Institute has a dedicated capacity building lab, which enables the students to develop their personality and upgrade their communication and presentation skills.
GuruKPO Web portal: GuruKPO is the fastest growing educational web portal where all kinds of academic information is available free of cost. It is the only web portal in India that comprises of content study material and educational videos.
Visit website on : www.gurukpo.com
World class Infrastructure: BISMA provides their students with a sprawling campus where students can pursue their academics with utmost focus and also unwind from time to time in the open campus. The spacious classrooms are well equipped with multimedia projectors. The central library and computer labs cater their needs for academics and research works.
Rich Alumni Base: A network built over many years. As the students walk out of BISMA, they embark upon a journey to put their learning into best practices. The students of yester years look back upon their alma mater as the reason for their success while the institute looks up to them as the reason for its pride and glory.
INETRNATIONAL PALCEMENTS :
Curriculum: The academic curriculum is structured to address the needs of the industry and is aligned towards imparting technical and contemporary knowledge to the students. An optimal mix of learning methods ensures a holistic personality development of the students. The curriculum encourages students to apply theoretical learning to real-life scenarios in the form of internships, case studies, research, events, live projects and the likes.
OORJA Programme: BISMA is one of a kind institute that not only teaches their students to fly high in the sky but also keep them landed with the values they inculcate in them. A Special OORJA programme is organized to enhance the personality of students and imbibe  positive think among them.
IT Setup: The computer center has all the modern resources in place to facilitate the academic activities of the Institute. The computer lab has almost 200 computers with latest configuration. There are 24*7 broadband internet facilities available for students & faculty member. The Research Lab is well equipped with best of the computers, printers and SPSS Software. A separate lab for Microsoft Office Specialist online examination and  Tally Certification is also available.
Infrastructure:
A Majestic Building suitably located in the most eco-friendly environment of one of the best planned locality of Jaipur.
A Well stocked Library and Air-Conditioned Computer Lab.
Equipped with "State of the Art" Campus.
An Innovative Curriculum to prepare future business leaders.
Frequent Interaction with Practicing Managers from Corporate World.
The Faculty members of BISMA- They are Perfect Mentors.
Well Networked Placement Cell.
Freely accessible Guru-KPO site for study material.